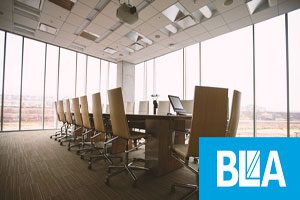 There are thousands of square feet of office space standing empty all around the city. Still, a floor of the old UBS offices near Liverpool Street Station in the City of London has the lights on – and someone is home. 
Arts charity Theatre Deli works to support artists and the local community by partnering with landlords and property developers with underused spaces in city centres.
Our bar and cafe downstairs remain closed due to Covid-19. A light-box emblazoned with the words 'If you Build It, They Will Come…' greets artists and invites them upstairs into a series of bright traditional office spaces that have been converted into studios for rehearsals, developing new work, and live streaming performances.  
These studios reopened for limited activity September-December 2020 and are now returning to full capacity with public classes available from 17th May and an immersive escape-the-room heist experience for groups of up to 6 openings on 24th June.
In Sheffield, where restrictions have prevented performances, we have made our other current venue (previously a branch of Mothercare) available to local charity Under the Stars to continue its creative work with people with learning disabilities and/or autism.
Deli's property portfolio over the last 13 years has encompassed 12 venues, including an ex-Woolworths shop floor on Sheffield's The Moor, the BBC London Studios building on Marylebone High Street, The Guardian headquarters on Farringdon Road before its demolition, the Old Library in Southwark's Burgess Park as well as spaces in Regent Street, Victoria and Canary Wharf. 
In each case, the leases were designed from the outset to be temporary injections of culture that respond to the building itself and the local and artistic communities. But they were also intended to relieve landlords of the entire burden of expensive business rates on empty properties.
With the 80% relief on business rates which is mandatory for local authorities to grant to charities, it can be mutually beneficial for a property owner and a charity to partner up, providing property owners 50-70% savings on empty rates while offering the community a significant benefit. 
With developers that want an ongoing relationship with an area, the placemaking and CSR benefits are potentially huge. As Theatre Deli can reach into both resident populations – as it has in Sheffield and Southwark – and working populations, it has in Liverpool Street. Where its bar was a quirky hit pre-lockdown with those working for firms based in the Broadgate buildings. 
It remains to be seen how quickly office space in city centres will be reoccupied. However, many of the UK's biggest employers have already abandoned plans to fully reoccupy their offices. This in favour of spending considerably less to purchase their employee's new laptops or bolster their internet connections for remote working.
 This new working pattern is welcome news for employers who will need to spend less on office space but potentially disastrous for landlords and developers. Deli may provide a much-needed pivot for the centres of UK cities that might otherwise be hollowed out in the coming years.
Theatre Deli was born amid the 2008 crash and subsequent recession. At the beginning of another, we intend to expand into other UK cities, providing opportunities for artists and bringing surprising things into unlikely places.
To that end, we've produced a White Paper, available free to commercial landlords who want to know if a partnership with a creative company might be for them. It's available to download here from our website. 
And as Deli's CEO and Executive Director, I'm always happy to chat with interested landlords about how we might be able to work together.
Author: David Ralf, CEO and Executive Director, Theatre Deli

Date: 7th of May 2021
Other top read Blogs:
Is our housing market about to crash?
Oldham landlord jailed 9 years after a tenant dies of carbon monoxide poisoning
Debtors including Tenants to have protection against Landlords chasing debt