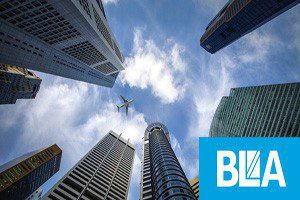 Commercial landlords historically have done reasonably well as opposed to residential landlords. Last 3 decades of financial crashes ERM or Lehman Brothers, to name a few, the commercial property sector has not suffered the same fate as residential landlords.
However, under the COVID-19 pandemic, commercial landlords have taken a battering, and they face uncertainty as to what the future holds for them at least for the short term. 
Brexit is only adding to the uncertainty, and uncertainty is what markets hate the most.
The Government has said it is carefully monitoring the COVID-19 financial impact on commercial landlords' and will continue to keep the door open for a dialogue with them. 
They have urged landlords to give their tenants some grace, to pay the rent. Tenants also need to recognise commercial landlords too are dealing with financial challenges. 
It is in the interest of commercial landlords to work with their tenant. After all, they rely on a vibrant and thriving business community to occupy their properties.
Our objective as a landlord's association is to support and advise our commercial landlord members. The Government needs to support the commercial property sector so that our economy can bounce back to good health. 
The issues and concerns facing commercial landlords and tenants? 
Due to COVID-19, the UK government announced on the 23rd of March 2020 that by law commercial landlords are to be banned from forfeiting commercial leases and evicting the tenant for non-payment of rent. 
Tenants defaulting on paying the rents are a concern for commercial landlords and the tenants too, and both need the positive support of their banks. 
Commercial landlords are expected to pass on the benefit of mortgage holidays to their tenants to ensure that they are supported during this difficult time. 
Mortgage holidays do not mean a write off for mortgage payments as a few tenants wrongly think. If possible, tenants should do all they can to keep paying the rent. Rent holiday means it can be deferred by consent between the landlord and tenant.  
Despite receiving less than 30% rent, Criterion Capital opted to use statutory demands only on established businesses. They believe these rogue tenants have chosen to blatantly use the Government's coronavirus Act to withhold paying rents. 
Criterion Capital said: we are forced to take positive action because we are a business that has an obligation to our lenders. We need the rent paid by our tenants so we can pay our mortgage payments on time. The property industry currently is being treated as the nation's bank. 
The UK government has published a "Code of Practice for commercial property relationships during the COVID-19 pandemic" ("Code"). This has been developed with industry leaders to assist commercial landlords and tenants in agreeing on a road map for their plan for economic recovery. 
The Code was published for landlords and tenants of commercial property across the UK on the 19th of June 2020. 
The main aim of the Code of practice is said to be "transparency and collaboration", and the Government encourage landlords and tenants to act in a "reasonably and responsibly". 
This Code of practice is intended to work hand in hand with the moratorium on forfeiture of commercial leases and changes to Commercial Rent Arrears Recovery, statutory demands, and winding-up petitions. These will provide crucial breathing space for tenants and landlords and other partners to forge a plan going ahead. 
Currently, landlords are prohibited from forfeiting a business tenancy for non-payment of rent (Section 82). 
No conduct by or on behalf of the landlord, other than giving an express waiver in writing, is to be regarded as waiving a right of re-entry or forfeiture for non-payment of rent. 
The relevant provisions of the Coronavirus Act 2020 apply to most commercial leases, but not all leases for terms of less than six months. 
Commercial landlord rent arrears recovery
The new regulations prevent landlords from using the Commercial Rent Arrears Recovery procedure (CRAR). Unless an amount owed by the tenant equals to not less than 189 days rent is overdue (rather than, as previously, an amount equal to 7 days or more). 
From the 29th of September 2020 under Commercial Rent Arrears Recovery (CRAR), the minimum amount of unpaid net rent required before you can exercise CRAR in England and Wales have been increased to an amount equal to 276 days' rent. 
This was increased previously from seven to 90 and then 189 days' rent. 
These sums, and interest, remain the liability of the tenant, the Act under COVID-19 solely offers vital breathing space for tenants to deal with the rent arrears. 
For possession proceedings a new Practice Direction under the Civil Procedure Rules (PD 51Z) has been issued on the 26th of March 2020 it has, however, been amended a few times since. 
The ban on eviction did not apply to possession proceedings for trespass against "persons unknown" for commercial or residential properties.  
The Corporate Insolvency and Governance Act 
For commercial landlords and tenants, the Corporate Insolvency and Governance Act is relevant when dealing with debt recovery.  
The Corporate Insolvency and Governance Act temporarily (and retrospectively) limits the rights of creditors to collect debts.
This includes landlords collecting rents using statutory demands and presentation of winding-up petitions. Applicable where a company cannot pay its debts due to or has been impacted by the coronavirus. 
The Government is also currently legislating to limit the use of statutory demands and winding up petitions until the 30th of September through the Corporate Governance and Insolvency Bill. 
Can my tenant claim a reduction in rent if

premises vacant?
Legally unlikely. Very few leases contain a 'force majeure' clause which could legally allow either party to claim that the obligations in the lease are suspended because of a pandemic.
Almost all leases, the obligation to pay the rent is only suspended, or the amount of rent reduced, where there has been "damage" to or "destruction" of the let premises by an insured risk or, in some cases, an uninsured risk. 
Landlords, if they can afford to, defer, reduce, or entirely suspend the rent for a period to avoid tenant insolvency. Any of these options should be carefully considered and must be documented very carefully.
Can the tenant stop paying the rent legally?
Rent suspension provisions are very unlikely to apply. However, the wording of the lease should be checked.
Even if the tenant has a claim for breach of covenant, and the lease states that rent is payable without deduction or set-off, then the tenant should continue to pay the rent. The tenant should seek to recover any damages sought for breach of the covenant as a separate matter.
Will I compromise my position if I negotiate a lower rent or suspend the rent with my tenant?
No, not necessarily – under the Coronavirus Act 2020, no conduct by or on behalf of the landlord, other than giving an express written waiver, is to be regarded as waiving a right of re-entry or forfeiture for non-payment of rent.
The landlord's right to forfeit is protected under the Act if it is to negotiate with the tenant to agree on rent concessions, or reducing the payment of rent, provided they do not expressly agree to waive the right to forfeit.
Can my tenant close the premises?
The landlord or tenant should check the lease to see if it provides for the tenants to notify the landlord if the premises are left empty. Empty premises may affect the building insurance, as most insurers will not cover a vacant property over 21 days. You should liaise with tenants if possible, about their intentions so that you can inform the insurers when the building is vacant.
Source: British Landlords Association
Author: Helen Cartwright [email protected]
Date: 26th of October 2020