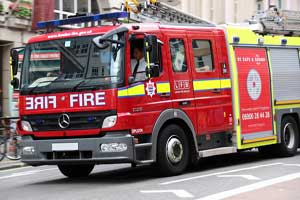 2021 marks four years since the dreadful fire at Grenfell Tower in London that killed 72 people. It should not have taken a dreadful disaster of that scale, to prompt a change.
As well as the anniversary, 2021 will mark the beginning of long-overdue regulatory reform, where we expect to see some significant changes to building safety regulations since 40 years ago.
Before Grenfell, the RIBA was already lobbying for a stronger regulatory system and tougher Building Regulations to ensure the safety of the general public.
While we have seen small changes made since Grenfell, we expect the greatest changes to occur as a result of the Fire Safety Bill and Building Safety Bill. They will both go through Parliament this year.
Mr Sajjad Ahmad of the British Landlords Association said: "The new regulations are way overdue and are welcome news, we are keen to see the fine details when it is published. What financial implications these new regulations will have on some commercial landlords is unknown at the moment. Commercial landlords are already financially challenged and may need government financial support for implementation.
The Government has announced landlords, letting agents and property managers of HMOs face unlimited fines following new measures to strengthen fire safety.
These new regulations are part of the Government's response to the Fire Safety Consultation. The new rules will not apply to domestic properties but apply to HMOs and other multi-tenancy premises.
The Government will publish the exact details in 2022 as part of the Building Safety Bill legislation – probably sometime in 2022.
The new regulation will amend the Fire Safety Order and include a requirement for fire risk assessments to be recorded for each building. This will improve how fire safety information is handed over throughout the lifetime of a building.
Fire Minister Lord Greenhalgh said: "Everyone should be safe in the buildings where they live, stay or work.
"Our new measures will improve fire safety and help save lives, but will also take firm action against those who fail in their duty to keep people safe."
And Roy Wilsher, who is the National Fire Chiefs Council Chair, added: "We want to see safer buildings for residents and are committed to working constructively with the Home Office and other partners on the Grenfell Tower Inquiry recommendations and other key fire safety policy areas."
The Government says the new regulations will help:
Improve the quality of fire risk assessments and competence of those who complete them;
Ensure vital fire safety information is preserved over the lifespan of all regulated buildings;
Improve cooperation and coordination amongst people responsible for fire safety and making it easier to identify who they are;
Strengthen enforcement action, with anyone impersonating or obstructing a fire inspector facing unlimited fines;
Strengthen guidance issued under the Fire Safety Order so that failure to follow it may be considered in court proceedings as evidence of a breach or compliance;
Improve the engagement between Building Control Bodies and Fire Authorities in reviewing plans for building work;
Require all new flats above 11 metres tall to install premises information boxes.
HMO Courses for landlords, letting agents and property managers will be a great help for all those managing HMO properties.
Fire Safety Checklist
Checklist for landlords, property managers and designated responsible persons to assess whether or not their HMO meets the (2020) relevant fire safety standards.
Are the correct smoke detectors fitted?
Do the smoke detectors work?
Are escape routes clearly visible and are well lit?
Do fire doors meet the 30-minute fire resistance criteria?
Do the fire doors have self-closing mechanisms?
Is all furniture fire safe?
Do the fire doors have correct intumescent strips with smoke seals?
Does the kitchen have a fire blanket?
Are combustible materials and ignition sources kept separate?
Has a fire risk assessment been carried out?
Has the fire smoke panel (if applicable) serviced regularly?
The British Landlords Association is a free national landlords association, why not join us for free!
Author: Sarah Featherstone [email protected]
Date: 19th of March 2021
Top Blogs:
How to make an accelerated possession claim under section 21?
Warning extending the ban on eviction will cause a tumbleweed effect on the housing crisis